Retail sales growth in surprise dip, finds CBI survey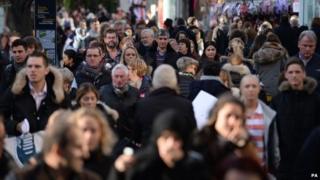 February saw retail sales fall back compared with a year ago - against expectations - according to a survey by the business lobby group, the CBI.
Its quarterly distributive trades survey of 138 firms showed orders placed with suppliers also dropped off.
The slide followed six months of "very buoyant" sales, and although firms are optimistic next month will pick up, these hopes are more modest than before.
Employment was also down on last year.
Reflecting official figures on inflation, the CBI also noted prices fell for the first time since May 2006.
Sales volumes rose particularly strongly for cultural goods and chemists, but this was offset by poorer performances elsewhere - particularly among grocers and department stores.
Rain Newton-Smith, CBI director of economics, said: "After a strong start to the year, retailers were disappointed by the unexpected halt in sales growth. In particular, continually heavy discounting in the grocers sector seems to be weighing on activity.
"Looking ahead, the outlook for the retail sector is fairly positive, with the boost to household incomes from falling inflation likely to support spending. Indeed, firms remain upbeat about the businesses situation over the coming quarter."