Aer Lingus hails 'excellent' year as underlying profit jumps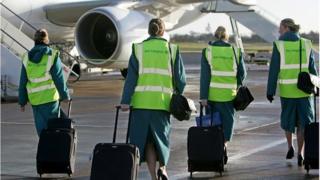 Irish airline Aer Lingus saw operating profits jump 18% to €72m (£52.76m; $81..54m) as it increased travel on its long-distance routes.
On a pre-tax basis, it made a loss of €180m euros, thanks to a one-off charge to resolve pension funding issues.
The airline said it had carried 11 million passengers on both long and short-haul routes for the first time.
The management also repeated its backing for a takeover by British Airways' owner, IAG.
Aer Lingus said the pension scheme settlement should put future pension provision for non-pilot employees on a sustainable footing.
It added it should also substantially reduce industrial relations issues.
There was a 28.4% increase in revenue from long haul passengers' fares, with the average fare per seat up 7.2%.
Last year, Aer Lingus moved its base at Heathrow from Terminal 1 to Terminal 2, a move it said had resulted in "a major improvement in our passenger experience".
Its chairman, Colm Barrington, said: "To enhance these excellent results and to accelerate Aer Lingus' growth, it is the board's strong belief that the company should now take the opportunity to combine with IAG."
The takeover needs the approval of both the Irish government, which holds a 25% stake, and rival Ryanair, which has a near 30% stake and had previously tried to take over the business itself.