Aldermore revives plan to float with March listing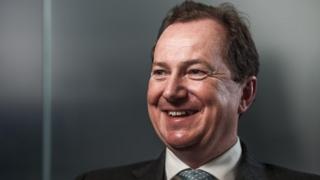 UK bank Aldermore has revived its plans to float on the London Stock Exchange, with a listing planned next month.
The bank said it hoped to raise £75m "to support the medium-term growth of the business".
It cancelled plans for a stock market flotation last year because of the turmoil in the stock markets.
Aldermore is a specialist bank that concentrates on lending to small and medium-sized businesses, as well as to homeowners.
"We have been clear that we view the public markets as the right place for us to be. Now is the right time for Aldermore to seek a listing on the London Stock Exchange," said chief executive Phillip Monks.
Former Barclays executive Mr Monks set up the bank in May 2009.
Private equity firm Anacap and other investors will also sell shares in the offer, which will result in about 40% of the bank being listed, it said.
The announcement comes just after the bank's annual results, in which it said profit had more than doubled last year.