TSB hails 2014 as 'pivotal year' as it grows accounts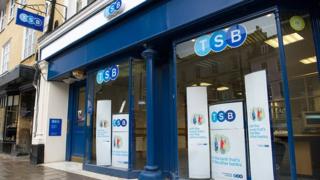 TSB Banking Group has hailed 2014 as "a pivotal year" as it claimed an 8.4% share of all people switching or opening a new bank account.
The bank, which was spun off as a separate business by Lloyds Banking Group in June, said 500,000 new bank accounts were opened with it last year.
TSB said the increase in new accounts had helped to drive its pre-tax profit up 2.3% to £133.7m.
The bank is currently the UK's seventh biggest lender.
TSB is aiming to become a larger player in the current account market, growing its market share from 4.3% to 6% over the next four to five years.
It said 2014 marked "a strong start" to its growth plans.
"Growth remains our key strategic focus and we expect TSB to continue to consistently attract more than 6% of all new and switching bank accounts each quarter," said chief executive Paul Pester.
TSB inherited its current network of 631 branches, after Lloyds was ordered to sell them, as a condition of its bail-out by the government.
Lloyds first merged with TSB in 1995.
When Lloyds received a government funded bailout during the financial crisis, European regulators said it would have to reduce its size to comply with state aid rules.
Originally Lloyds planned to sell 600 branches to the Co-op Bank. After that deal fell through, Lloyds decided instead to resurrect the TSB brand as a standalone business and sell it to investors.