TJ Maxx follows Walmart in raising US workers' basic pay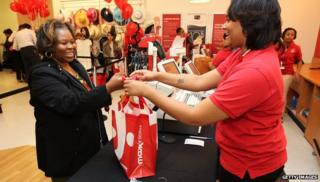 The owner of US retailers TJ Maxx and Marshalls will raise the hourly pay of its workers to $9 (£5.80) in June - $1.75 above the country's minimum wage.
TJX said it also plans to increase the rate to $10 in 2016.
The announcement comes a week after Walmart, the US's largest private employer, said it would raise hourly wages to $9.
The firms' decisions reflect an improving US economic climate, as well as widespread protests over low wages.
TJX announced the wage increases as part of its fourth-quarter earnings report.
The company reported an 11% rise in net profit from the same period a year earlier to $648m, and said same-store sales increased by 4%.
Shares in TJX were up over 3% in afternoon trading.
Growing trend
TJ Maxx employs approximately 191,000 associates at 3,395 stores around the world, including TK Maxx in the UK.
Carol Meyrowitz, TJX's chief executive, said in a statement: "This pay initiative is an important part of our strategies to continue attracting and retaining the best talent in order to deliver a great shopping experience for our customers, remain competitive on wages in our US markets, and stay focused on our value mission."
The US federal minimum wage is currently $7.25 per hour, although several US states and cities have passed measures increasing the wage floor.
In 2015, the minimum wage in 23 US states and Washington, DC is set to rise to varying degrees, meaning that retailers such as TJ Maxx and Walmart would have had to pay higher wages as a result of legislative efforts.