Cadbury and M&S lose top 20 brand ranking in annual survey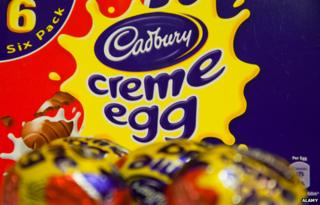 Marks and Spencer and Cadbury have both fallen out of an annual survey ranking the top 20 consumer brands in the UK.
The two firms lost their places alongside baked beans firm Heinz, electronics firm Sony, online retailer Amazon and oil giant Shell, in the research carried out by The Centre for Brand Analysis.
It is the first time since 2009 that M&S has been absent from the list.
British Airways was ranked top consumer and top business brand in the survey.
M&S's absence follows a tough time for the retailer, which reported its 14th consecutive quarter of falling clothing sales in January.
And Cadbury, which was taken over by US food firm Kraft in 2010, has suffered a recent backlash after it changed the recipe of its popular Creme Egg to use "standard, traditional Cadbury milk chocolate", not Dairy Milk for its shell.
Department store chain John Lewis, engineer Dyson, ice-cream firm Haagen-Dazs, Virgin Atlantic, washing up liquid Fairy and toy maker Lego replaced the fallers.
The list was drawn up after polling 2,500 British adults, who were asked to rank their favourites from a choice of 1,500 popular brands.
'Lacking impact'
Stephen Cheliotis, chief executive of The Centre for Brand Analysis, said the biggest surprise for him was that traditional brands remained the most relevant for consumers.
"The continued lack of impact from some of the newer brands is pretty ubiquitous. They don't seem to be capturing people's imagination in the same way as traditional brands," he added.
Social media giants such as Twitter and Facebook failed to make the top 20, while internet firm Google fell from seventh to 18th place, marking the third year in a row it has fallen down the rankings.
However some tech firms prospered, with Apple climbing back up four places from 14th to 10th, and Microsoft rising from sixth to fourth place.
The Consumer Superbrands ranking has been compiled since 1995.
---
Top 20 consumer brands for 2015
1. British Airways
2. Rolex
3. BBC
4. Microsoft
5. Nike
6. John Lewis
7. Gillette
8. Mercedes-Benz
9. Kellogg's
10. Apple
11. LEGO
12. Andrex
13. Boots
14. Dyson
15. Coca-Cola
16. Fairy
17. BMW
18. Google
19. Haagen-Dazs
20. Virgin Atlantic
---