Misconduct of the past stalks Barclays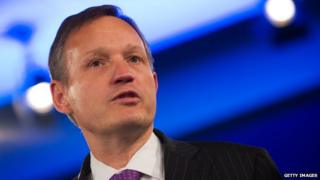 Antony Jenkins is saying today that Barclays is in the healthiest position it has been in since the financial crisis.
Some of the numbers revealed in its annual results support the view of the chief executive.
Adjusted profits - that's taking out some of the nasty stuff such as provision for misconduct fines - are up 12%.
Retail banking and Barclaycard are both seeing better performance, reflecting a UK trend set by Lloyds and the Royal Bank of Scotland to focus on simple "vanilla" banking.
Which, actually, can be pretty lucrative.
Operating expenses at Barclays are down and the capital position - that's how much money a bank has to absorb financial shocks - is strengthened.
Future fines
However, there are still some pretty major "buts".
The bank has taken a major new provision for future fines for foreign exchange manipulation - £750m.
That brings the total to £1.25bn and suggests that the American Department of Justice is limbering up to give the bank a major whack for past misconduct.
Provisions were also increased for the mis-selling of payment protection insurance, though not, interestingly, for the mis-selling of interest rate protection products to small businesses.
At the investment bank, Barclays is in what it describes as a "transition" year. Income is down 12%, but performance does not seem any worse than at competitors.
Bonus promise
The fall is reflected in the investment bank bonus pool, down 24%.
And at least Mr Jenkins has fulfilled his promise made to me last year that he would never again allow the bonus pool to increase even when revenues are down - that happened in 2013, much to the concern of investors.
"Compensation is down materially and profits are up materially," said Tushar Morzaria, Barclays finance director.
The biggest issue will be the return on equity (that's the money invested by the bank in its own business and is seen as a key marker of the performance of the bank). At the investment bank it is below 2.7%, compared to an overall core return on equity across the bank of nearly 11%.
"2.7% isn't the right number," Mr Morzaria admitted. "That will improve."
And if it doesn't, it seems there will be further "adjustments".
Which probably means more cuts in the investment bank - once, of course, the powerhouse of Barclays.