Headline Numbers: How many leaders in a debate?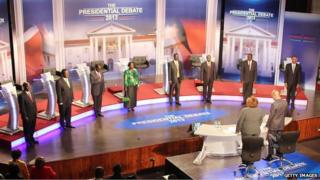 It appears that the only televised leaders' debate that the prime minister is prepared to participate in will be one with at least seven candidates in it.
The Conservatives, Labour, Liberal Democrats, UKIP, the Green Party, Scottish National Party, Plaid Cymru and possibly now the Democratic Unionist Party may all be involved in a 90 minute debate.
I must stress that I am not in any way party to the discussions behind the scenes about how these debates may end up looking, but I thought it would be worth looking at other countries that have such big debates.
Kenya's first televised election debate in February 2013 (pictured above) was enlarged at the last minute when the High Court in Nairobi ordered organisers to allow two excluded leaders to participate in it.
The debate was scheduled to last two hours but ended up overrunning by more than an hour.
It's hard to imagine a leaders' debate in the UK being allowed to overrun by more than 50%, which would mean that an eight leader debate could not possibly allow for more than 11 minutes per candidate, and that's without allowing for time taken to ask questions or any pauses, applause or commercial breaks. I would be surprised, though, if UK broadcasters decided to take the time to have a live rendition of the national anthem at the start, as they did in Kenya.
In the US, presidential primary debates often have such high numbers of candidates. A US website called Dawn of the Weak carried out admirably thorough analysis of how much time each candidate got to talk in the last set of primaries.
Consider the Fox News Google debate in September 2011 for the nine candidates who wanted the Republican nomination for the 2012 presidential election, for example.
In the two hour debate, Mitt Romney (the eventual winner) managed to bag the most speaking time at 12 minutes and nine seconds. At the other end of the scale, Gary Johnson only managed to speak for four minutes and 10 seconds. The analysis goes as far as telling us that Mr Johnson waited an average of more than 14 minutes between speaking.
I wonder if anybody would analyse UK election debates in such detail.
The most memorable multi-leader debate for viewers in the UK may be the fictional seven-candidate Danish prime ministerial debate that kicked off the first series of the political drama Borgen.
They have such well-populated debates in real life in Denmark too, as they do in other countries where coalition governments are the norm.
Perhaps the UK is on the way to becoming such a country.