Scottish Power hit with 12-day sales ban by Ofgem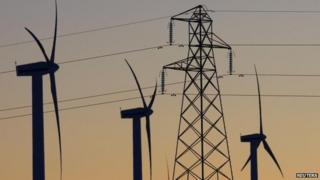 Energy supplier Scottish Power has accepted a 12-day sales ban after failing to meet Ofgem's customer service targets, the watchdog has said.
The firm cannot engage in "proactive sales" for a dozen days from 4 March.
It came after the supplier failed to meet Ofgem's targets to clear up all outstanding Energy Ombudsman decisions regarding customer complaints.
Scottish Power said it was "committed to delivering the best service possible and treating our customers fairly".
'Remain concerned'
In November, Ofgem said the firm had to answer customers' calls quicker, reduce a backlog of bills and act on outstanding ombudsman rulings.
Announcing the sales ban, Sarah Harrison, Ofgem's senior partner in charge of enforcement, said: "A sales ban illustrates the difficulties Scottish Power is having in delivering the levels of service customers deserve.
"While Ofgem's targets have driven significant improvements in Scottish Power's performance, we remain very concerned about how customers are being treated."
Scottish Power's performance had been measured against three targets outlined by Ofgem last winter, which were:
Reduce the amount of time customers are left waiting on the phone from an average of three minutes to two minutes by the end of January
Cut the number of overdue bills from 75,000 to 30,000 by the end of December
Remove a backlog in acting on rulings made by the ombudsman by the end of November
Ofgem said that while Scottish Power had met the first two targets it had not met the last one.
The watchdog said: "Ofgem and Ombudsman Services uncovered new evidence that showed the company had not fully met its November target. We have continued to work with Ombudsman Services and they found Scottish Power fell short by 30."
Sales staff switch
Scottish Power said that in November it had voluntarily set itself the above "challenging improvement targets".
"We have successfully delivered two of the targets," said Neil Clitheroe, chief executive of Scottish Power Retail & Generation.
"In relation to the target of having zero ombudsman remedies over 28 days, we cleared 2575 cases during November and, at 1 December, the Ombudsman confirmed that we have achieved the zero target.
"However, subsequently it was identified that 30 cases had been closed incorrectly. We sincerely apologise to these customers for these errors.
"The cases were immediately fixed on discovery. In line with our original voluntary commitment and with the agreement of Ofgem, we will now stop outbound selling from 4 March until 15 March."
He said that more than 500 sales advisers who are normally engaged in telesales activities will spend this period supporting customer service teams across the UK.
'Calling for action'
Meanwhile, the Energy Ombudsman said that if it had been given the correct information from Scottish Power, then 30 cases at the crux of the Ofgem action would not have been closed prematurely.
"We strongly support the [sales ban] decision and have been calling for action to be taken on this for several months," said Chief Ombudsman Lewis Shand Smith.
"The proportion of energy complaints that we receive related to Scottish Power is high and we welcome the company's stated intention to get its house in order.
"Whilst we welcome the action taken by Scottish Power to minimise customer detriment we are campaigning with Ofgem and the industry to be given the necessary powers to ensure ombudsman remedies are implemented within the required timescales."
The ombudsman also said that in 2014 it accepted roughly 13,000 cases from consumers with complaints about Scottish Power.