Jockey Club puts up record prize money for 2015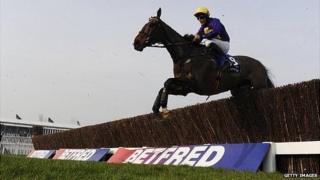 The Jockey Club says it will increase its contribution towards prize money at its 15 racecourses to a record £19.9m in 2015, up from £19.13m in 2014.
Total prize money at its 340 fixtures is set to exceed £43m in 2015, with £15m coming from the levy on gambling firms, and £8m in owners entry fees.
It runs the largest UK racecourse group by turnover, and stages both the Grand National and the Cheltenham Festival.
Average prize money will rise to £127,000 per fixture, it said.
Levy change
Last year the organisation - which is governed by Royal Charter to reinvest all profits back into British horseracing - had been set to put £19.5m into prize money, but meeting abandonments reduced that figure.
The Jockey Club says its contribution to prize money will have increased by more than 60%, or £7.5m, between 2009 and the end of 2015.
"In 2015 horsemen are racing for record sums... despite the fact fewer fixtures gives us less income to reinvest," said Paul Fisher, group managing director of Jockey Club Racecourses.
But he also said that racing remained a poor relation in terms of funding from betting, compared to other overseas horse racing jurisdictions, and that the situation needed "improvement at all levels of racing's pyramid".
He said the Jockey Club welcomed the government's consultation to replace the existing Horserace Betting Levy "with a system where racing and the betting industry find more mutual benefit in creating value together and a level playing field for all types of betting operator".
The levy is collected from the profits of betting on horseracing and is used towards backing the sport, including contributing towards prize money, and funding veterinary research and education.
The government has ruled out keeping the levy unchanged, as it says there are too many issues with it, including what the contribution should be of UK gambling firms who move their headquarters overseas.