Thomas Cook shares jump after Fosun buys 5% stake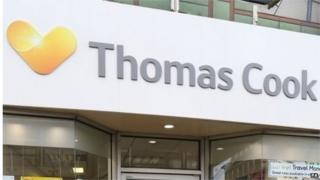 Shares in Thomas Cook have jumped 24.54% following the news that Chinese conglomerate Fosun has bought a 5% stake in the UK travel company.
The move consolidates Fosun's presence in the European holiday market, after it bought France's Club Med last month.
Fosun paid £91.9m ($140.12 million) for 5% of Thomas Cook, and it intends to increase its stake to 10%.
Thomas Cook said the move could lead to collaboration with Club Med, and with Fosun's other leisure businesses.
The UK firm recently reported a loss of about £53m for the last three months of 2014.
'Major milestone'
Over the medium term, Thomas Cook said the deal could lead to access to the fast-growing Chinese tourism market.
Last Updated at 23 Mar 2018, 16:30 GMT
*Chart shows local time
price
change
%
118.30 p

-

-0.70

-

-0.59
Frank Meysman, chairman of Thomas Cook, said the tie up marked "a major milestone in Thomas Cook's 174-year history".
Fosun is paying 4.1% more per share than Thursday's closing market price of 120p.
Thomas Cook's shares have had a rocky ride in recent years.
Two years ago its share price was 14p as the business, the pioneer of the package tour, struggled to compete in a world where the rise of the low-cost airline prompted people to bolt together their own holidays.
It appointed Harriet Green as chief executive and underwent a major reorganisation, which involved closing many of its once-familiar High Street outlets.
Ms Green abruptly left the company in November last year with its shares worth 10 times more than when she began running the business. Ms Green said her work at the company was "complete".