UK business costs 'fall for first time in six years'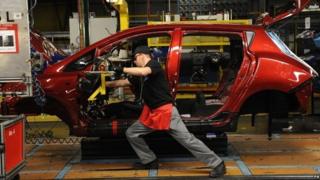 UK businesses saw overall costs fall in February for the first time in six years, a survey suggests.
The business trends report from the accountancy and services group BDO said that its inflation index had descended into deflationary territory for the first time since 2009.
BDO credited the fall to the sharp drop in crude oil prices, which have almost halved since June.
It said the fall in prices would enable firms to invest in growth.
"Lower input prices will help entrench the recovery, as consumers gain more spending power, " said BDO partner Peter Hemington.
The report also found both business confidence and companies' hiring intentions remained high, with companies expecting the steady growth in the UK economy to continue into mid-2015.
BDO's research, which is based on the results of the UK's main business surveys, chimes with a separate report from the Federation of Small Businesses (FSB) which found lower costs and a bright economic outlook meant confidence among smaller firms remained "robust".
It said low inflation was helping businesses' bottom lines, with the lowest-ever proportion of businesses (44%) reporting a year-on-year increase in costs.
Its research also showed companies were increasing the number of people they are hiring for work, with a net balance of 4.2% of small firms saying they had taken on new staff in the last quarter.
However, it warned that companies were still struggling with skills shortages, which the report found were getting worse.