Government nets £500m from latest Lloyds share sales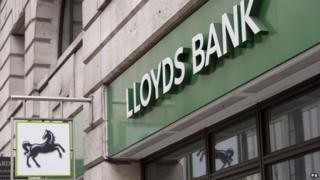 The latest round of sales of Lloyds Banking Group shares has netted the government £500m.
The recent sales, which began in February, have lowered the publicly-owned stake in the bank to 22.98%.
Lloyds received £20bn of government support during the financial crisis, with the taxpayer taking a 40% stake.
UK Financial Investments (UKFI), given the task of administering the stake, has recouped about £8.5bn for the Treasury so far.
Last Updated at 23 Feb 2018, 16:30 GMT
*Chart shows local time
price
change
%
68.65 p

-

-0.53

-

-0.77
"These sales are part of our plan to return Lloyds to the private sector and get taxpayers' money back," Chancellor George Osborne said in a statement.
"The proceeds will be used to reduce the national debt."
In December, UKFI launched a trading plan designed to reduce the publicly-owned stake in Lloyds over a six-month period, ending 30 June.
At that point, the Treasury owned 17.8bn shares in Lloyds, or 24.9% of the banking giant.
The plan is being administered by investment bank Morgan Stanley.
All shares sold through the trading plan have fetched more than the 73.6p per share average price the previous government paid for them, the Treasury said.
But it did not release details of the actual prices received.