'Prudential boss Tidjane Thiam to lead Credit Suisse'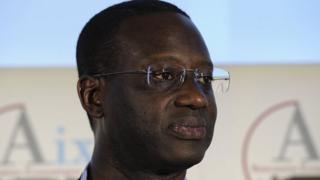 Prudential boss Tidjane Thiam is expected to leave the insurance firm to take the top job at Credit Suisse, according to media reports.
Mr Thiam, who has headed Prudential for six years, will replace Brady Dougan, current chief executive of the Swiss bank, who has led the firm since 2007.
Ivory Coast-born Mr Thiam was the first black chief executive of a FTSE 100 company when he was appointed in 2009.
Credit Suisse and Prudential both declined to comment.
The Financial Times, which first reported the story, said an official announcement was expected on Tuesday.
Mr Thiam's expected departure comes ahead of Prudential's full year results on Wednesday.
His decision to quit will be seen as a loss for the insurance firm, which has seen its share price triple during his time at the helm.
In the early days of Mr Thiam's tenure, there was widespread speculation over whether he would remain chief executive after it failed to buy Asian business AIA costing the insurer £377m.
Mr Thiam publicly apologised for the high-profile failure, but since then has been credited for driving the group's rapid expansion.