Prudential boss Tidjane Thiam to lead Credit Suisse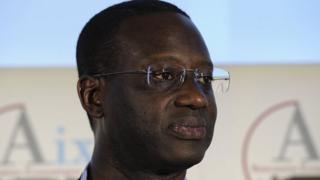 Prudential boss Tidjane Thiam is to leave the insurance giant to take the top job at Credit Suisse later this year.
It comes as Prudential reported a 60% rise in annual pre-tax profit of £2.6bn, against £1.6bn a year ago.
Mr Thiam has headed Prudential for six years and replaces Credit Suisse chief executive Brady Dougan, who has led the firm since 2007.
Mr Dougan will step down at the end of June.
Last Updated at 23 Feb 2018, 16:30 GMT
*Chart shows local time
price
change
%
1832.50 p

-

-11.00

-

-0.60
Failed acquisition
Prudential confirmed Mr Thiam was to stand down, adding "we have identified a successor and expect to be able to announce a new CEO once the regulatory approval process has been completed".
Prudential's share price was 2.3% lower at 1625p after news of Mr Thiam's departure was confirmed. Credit Suisse meanwhile saw its shares rise 7% in Frankfurt to €23.17.
Mr Thiam's decision to quit will be seen as a loss for Prudential, which has seen its share price flourish during his time at the helm.
In the early days of Mr Thiam's tenure, there was widespread speculation over whether he would remain boss after Prudential failed to buy Asian business AIA, costing the insurer £377m.
Mr Thiam publicly apologised for the high-profile failure, but since then has been credited for driving the group's rapid expansion.
Prudential said on Tuesday it was increasing its full year dividend by 10% to 36.93p, reflecting the group's strong financial performance in the year.
---
Analysis: Business editor, Kamal Ahmed
Tidjane Thiam was that rare thing among chief executives of large, global corporates - someone who oversaw a shambolic attempt at executing a multi-billion pound deal, and survived.
And - if you look at Prudential's performance since then - many now argue that it was quite right that he did so.
The deal in question was the £21bn bid to take over AIA, the Asian insurance giant.
Such was Mr Thiam's lack of experience in the world of acquisitions (he had only taken over as CEO a year earlier) the whole process was dogged by mistakes.
The Financial Services Authority fined Prudential £30m for failing to keep the regulator properly informed.
What Mr Thiam's departure proves, five years later, is that if investors have patience, a chief executive with the right strategy (strong expansion in Asia) can survive a tricky start.
Since 2010, Prudential's share price has risen by 211%.
---
Prudential also warned it faced "a considerable period of change in 2015," which had already seen global economic volatility, political upheaval and unexpected shifts in central bank positioning".
The company added: "The persistently low level of interest rates is a challenge for insurance companies."
The insurer said operating pre-tax profit for the year was 14% higher to £3.2bn based on the performance of its longer term investments.
Credit Suisse chairman Urs Rohner said Mr Thiam was "a strong and distinguished leader with an impressive track record in the global financial services industry".
He added: "His extensive international experience, including in wealth and asset management and in the successful development of new markets, provides a firm foundation for leading Credit Suisse."
Mr Thiam said he would presenting the Pru's first quarter results in May and attending his final AGM as chief executive shortly afterwards.