G4S back in profit after international contract wins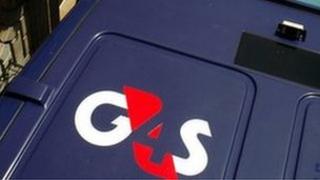 G4S has posted a pre-tax profit of £148m for 2014, compared with a loss of £190m a year earlier.
Revenue from emerging markets, which account for almost a third of the security firm's business, was 7.7% higher in 2014.
G4S fared less well at home. Revenue from the UK and Ireland was 1.3% lower in 2014, suggesting that G4S's troubles are far from over in its home market.
G4S lost a series of contracts in 2012 and 2013, which hit the firm.
The company has increased provisions for under-performing UK government contracts by £45m.
In 2013 G4S set aside £136m to cover costs associated with some contracts, including £116m for the electronic monitoring contract.
G4S agreed to pay £109m in April after an audit found it charged too much for providing the electronic prisoner tags.
The electronic monitoring contract ended in March. According to G4S, this depressed profits in 2014.
'Positive steps'
The government has said that G4S has since taken "positive steps" to change its practices and cleared the firm to bid for future government contracts.
Last Updated at 22 Feb 2018, 16:30 GMT
*Chart shows local time
price
change
%
260.30 p

-

-2.50

-

-0.95
The security firm is undergoing a reorganisation in an attempt to improve its profitability and reputation.
In Europe, G4S's revenue declined 0.8% after the Dutch government "insourced" a contract back to the Department of Justice.
G4S has sold three of its European businesses in a bid to improve profitability in the region. It gained £39m from the sale of a business in Sweden.
Latin America is a source of growth for the business - revenue was 11.8% higher in 2014 on the previous year.
"There remains much to be done to realise the full potential of our strategy and we expect to make further progress in 2015," said G4S chief executive Ashley Almanza.