UK economic recovery may be 'bypassing' retail sector - says KPMG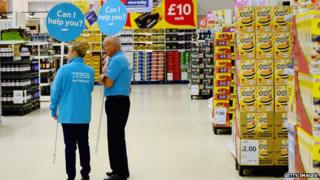 The UK's economic recovery may be "bypassing the retail sector," according to a report from the British Retail Consortium and accountants KPMG.
Like-for-like sales fell 0.1% between December and February, according to their report.
Food sales dropped 1.6% while non-food goods rose 1.2% in the same period.
In a separate study, Kantar Worldpanel found that the cost of groceries has declined by 1.6%, which is the fastest rate on record.
Grocery prices have fallen due to an ongoing price war among the UK's biggest supermarkets. This has led to a fall in like-for-like food sales.
Tesco, Asda, Sainsbury's, Morrison's and the Co-operative have all seen their shares of the market decline, says Kantar.
Waitrose, Aldi and Lidl have increased their market shares.
Restaurants & retailers
"It seems that overall the wider economic recovery is bypassing the retail sector," says KPMG's head of retail David McCorquodale.
"With interest rates and inflation remaining low, it's surprising more consumers aren't treating themselves.
"[But] one suspects that restaurateurs, not retailers, are benefitting from the extra cash in consumers' pockets resulting from fuel price savings," he said.
The decline in food sales has been balanced by a boost to non-food retailers.
Clothing and furniture sales recorded the biggest sales increases in February compared against last year.
Swimwear, sandals and other "holiday" items performed particularly well, said Helen Dickinson, director general at the British Retail Consortium.