Lego seeks US ban of 'strikingly similar' toy sets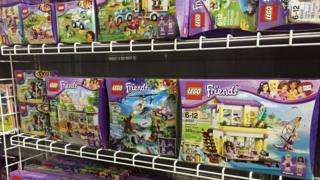 What makes a Lego woman?
That is the question that will be put before a US judge, after the renowned Danish company complained that three toy firms were selling figures that are "strikingly and substantially similar" to Lego's Friends range.
In a filing to the US International Trade Commission, Lego's lawyers claim the "torso, head, arms legs and feet" of said toys infringe its patents.
The Commission will decide whether to ban imports of the offending products.
Lego's court filing is replete with images of its Friends Sunshine Ranch and Heartlake Shopping Mall sets, and contrasts them with Lite Brix's Sunset Island Mall, Mega Brands' Blue Ribbon Ranch, and Best-Lock's I'm Teen Little Mermaid.
The company says it launched Lego Friends in the US in 2012, and put $40m (£27m) into advertising the range, after market research found that just 9% of those playing with the iconic toys were girls.
Each Lego Friends figurine is "named, has a back story and a career," the lawyers contend, and each is made "with the goal of inspiring more girls to try their hand at building and experience the pride of accomplishment that Lego play fosters".
The three firms accused of ripping-off this concept manufacture their toys in China and Canada, and are therefore vulnerable to US import bans.