Foxtons profits up 8.2% on 'very strong' market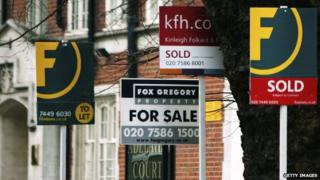 Foxtons, the London estate agency, has reported an 8.2% rise in pre-tax profits to £42.1m.
The firm's chief executive said there was a "very strong property sales market" in the first six months followed by a second-half downturn.
Last month the agency predicted that its sales would be unlikely to rise again until after the forthcoming general election.
Foxtons currently have 52 branches in the UK, mainly in central London.
Its says it is on track to open another seven branches this year.
Nic Budden, chief executive officer said: "2014 was a year of contrasting halves.
"The first half was characterised by a very strong property sales market with transactions reaching their highest levels since 2008.
"In the second half we saw a sharp downturn in property sales volumes, particularly in central London."