Chinese designer shoemaker sees 5,000 workers strike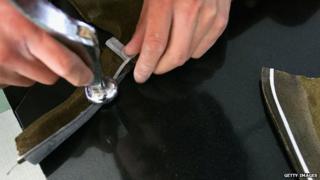 Around 5,000 factory workers have gone on strike at the Chinese shoemaker that makes shoes for Prada and Michael Kors.
Strikes began on Sunday at the factory in Dongguan in south east China with workers demanding housing assistance.
A spokeswoman for Stella International said only "a few hundred" workers had gone on strike, not 5,000.
Strikes are on the rise in China: last year the figure more than doubled to 1,378 from 656 in 2013.
Last April 40,000 employees of Adidas and Nike supplier Yue Yuen went on strike to demand social insurance payments.
Congress
One worker at the Dongguan factory, Liu Zai, said she had not received housing funds in eight years of working there.
"We want an explanation. Why haven't they paid this for so many years?", said Ms Zai.
The strike comes as China's parliament, the National People's Congress, holds its annual session in Beijing.
The country's Premier Li Keqiang told the congress last week the government would "improve the mechanisms for supervising the handling of labour issues and disputes, and ensure the law fully functions as the protector of the rights and interests of anyone in employment".