London house prices continuing to fall, says Rics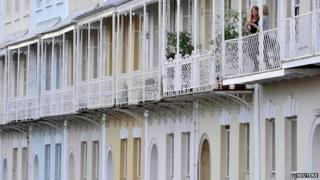 House prices in London are moving in the opposite direction to the rest of the UK - they are falling, according to surveyors.
More surveyors reported that property prices had fallen in the three months to the end of February than those who reported price rises.
The opposite was true in the rest of the UK, with price growth led by Scotland and Northern Ireland.
The data comes from the Royal Institution of Chartered Surveyors.
Price growth accelerated in the South West of England and South East of England, the group said. This was mainly the result of a lack of supply of homes on the market.
Uncertainty, owing to the upcoming election, could have delayed some potential sellers in putting their home on the market, it said.
'Unaffordable'
Although London recorded its sixth consecutive monthly price fall, many buyers believed that purchasing a property in London would become more and more out of reach, said Simon Rubinsohn, the institution's chief economist.
"There is a strong view in the survey that property will become even more unaffordable over the medium term. Respondents suggest, on average, that house prices will rise by a further 30% in the capital over the next five years," he said.
Recent surveys by lenders, the Nationwide and the Halifax, suggested that prices fell on average across the UK in February compared with the previous month.
House price calculator
Use our calculator to see where you can afford to rent or buy