MP criticise the Sellafield clean-up £53bn bill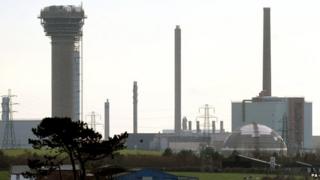 MPs have launched a fresh attack against the rising cost and delays of decommissioning and cleaning up the Sellafield nuclear site.
Bosses from the nuclear industry were questioned by the Public Accounts Committee following the revelation that the expected bill would reach £53bn.
The National Audit Office (NAO) hit out at the Nuclear Decommissioning Authority (NDA) which manages the site.
Labour MP Margaret Hodge, committee chair, said the cost was "astonishing".
The NDA was criticised for delays in cancelling a clean-up contract with the consortium Nuclear Management Partners (NMP) after demands from MPs to do so a year ago.
The report said the contract was terminated only last month, at a cost to the taxpayer of £430,000 in cancellation fees.
Future generations
Ms Hodge was questioning John Clarke, chief executive of the NDA, Stephen Lovegrove, permanent secretary at the Department of Energy and Climate Change, Paul Foster, managing director of Sellafield Ltd, Tom Bishop, former chairman of NMP, and Tony Price, who chairs the Sellafield board.
Mr Lovegrove said there was a "huge amount of uncertainty" over the work, which he described as the most "complex" site in Europe.
The clean-up and decommissioning work will take 120 years, he said, adding that he preferred to give a proper estimate rather than an "artificially low" one.
Ms Hodge said she was struck by the "massive burden on future generations", telling the nuclear industry officials it was a good idea to have strong targets and ambitions.
Mr Clarke told the committee it would be two years before communities would be invited to volunteer to be considered for sites where nuclear waste could be disposed of, with some form of financial benefit expected to be offered.