South Korea cuts lending rate to record low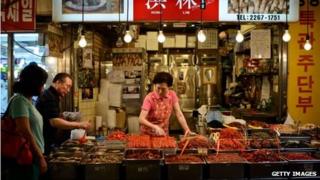 South Korea's central bank has cut its key lending rate to a record low of 1.75% - its first cut in five months.
The Bank of Korea's cut of 25 basis points was a surprise to most analysts.
The bank's move is in line with several other regional economies that have made interest rate cuts in an attempt to boost growth.
Analysts said the move was probably driven by a weaker economic outlook and fears over possible deflation. They predicted further cuts this year.
"Our baseline scenario is for a further 25 basis point rate cut in [the third quarter of 2015], which will bring the policy rate down to 1.50%," said Ronald Man, an economist at HSBC in Hong Kong.
Bank of Korea Governor Lee Ju-yeol said the decision to cut rates was not unanimous.
"Two board members voted to keep rates unchanged," Mr Lee said in a news conference on Thursday, as reported by Reuters news agency.
"Interest rates were lowered after looking at the current situation. We saw that the economy was not growing as much as thought and that inflation would be lower than expected."
He added that although rates had been cut twice in 2014, that the bank felt more was needed "to boost the momentum in the current recovery".
He also cited uncertainties due to the possibility of a rate hike by the US Federal Reserve and fluctuations in oil prices.
Joining the ranks
South Korea joins other countries in the region, including India, Thailand and China, in its move to cut rates as a way of potentially boosting growth.
At the end of February, and for the second time since November, China's central bank surprised the market with an interest rate cut.
The People's Bank of China (PBOC) cut its benchmark interest rate by 25 basis points to 5.35% - a move analysts said was aimed at warding off deflation.
And at the beginning of this month, for the second time this year, India's central bank cut its key interest rate, lowering its policy repo rate by 25 basis points to 7.5%.
Citing a weaker economy, the Reserve Bank of India made a similar cut in mid-January.
Then this week, Thailand also cut its interest rates for the first time since March last year. Its economy grew at its slowest pace in three years in 2014.