Shake Shack shares fall on first earnings report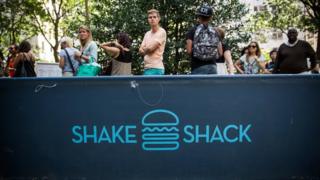 Shares in US burger restaurant chain Shake Shack fell by as much as 8% in after-hours trade in the US after it posted a fourth-quarter loss, which it attributed to a tax charge.
The firm reported a net loss of $1.4m (£936,000) for the period, compared to $997,000 a year earlier.
The earnings report was Shake Shack's first as a publicly listed company.
Started by restaurateur Danny Meyer in New York City in 2001, Shake Shack now has 63 restaurants worldwide.
The company attributed the loss to a $1.1m tax charge related to its initial share offering, and noted that same-store sales rose 7.2% during the period ending 31 December 2014, beating analyst expectations.
Earlier this year, when the company made its US stock market debut in January, its shares surged 118%, valuing the company at more than $1.8bn.
In addition to burgers and milkshakes, Shake Shack outlets offer beer and wine together with a number of seasonal specials.
It is part of a growing chain of so-called "fast casual" restaurants in the US, such as Mexican restaurant Chipotle and sandwich chain Panera, that are fighting traditional fast-food firms like McDonalds for dominance.
In a statement, Randy Garutti, Shake Shack's chief executive, said: "We are pleased with the strength of our fourth-quarter results and excited to begin our journey as a public company."
"We are witnessing a seismic shift in people's understanding and expectations of food and, for the last decade, Shake Shack has helped lead the change in consumer behavior through our fine casual approach," he added.