Tunis museum attack: Costa and MSC Cruises shun ports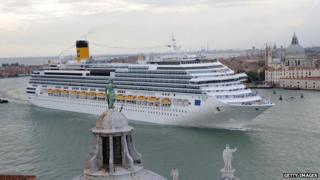 Costa Cruises and MSC Cruises, two Italian cruise companies, have cancelled planned stops in Tunisian ports following Wednesday's attack on a museum in the country's capital.
At least 21 people were killed in shootings at the Bardo Museum in Tunis.
An MSC spokeswoman confirmed 12 guests were killed in the attack, for which Islamic State militants have said they were responsible.
Costa is owned by Carnival, which also owns P&O Cruises and Cunard.
All MSC passengers are now accounted for, with 13 injured, said the firm.
Three passengers on the Costa Fascinosa died, the company's chief executive Michael Thamm said in a statement. Eight others were injured and two were unaccounted for.
Alternate ports were being decided upon, said Costa.
Costa said the suspension would affect three of its ships which had been due to visit Tunis in the coming months, the Costa Fortuna, Costa Favolosa and the Costa neoRiviera.
Tourists from Japan, Colombia, the UK and other European countries were killed in the attack and more than 40 people were injured.
The suspects arrested on Thursday were not identified and no further details of their alleged involvement were given.
However, BBC security correspondent Frank Gardner says an al-Qaeda operative has claimed that the two gunmen had spent two months training with Islamist militants in Derna, eastern Libya, before slipping back into Tunisia.