Bank of New York Mellon to pay $714m in fraud probe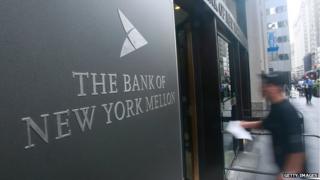 Bank of New York Mellon has agreed to pay $714m (£484m) to settle allegations it fraudulently overcharged clients for its foreign exchange services.
US authorities claim its customers were promised "the best possible execution" for currency transactions but were instead given the worst rates.
The firm restated its earnings last month to account for the charges.
As part of the settlement, BNY Mellon's products management head David Nichols and other executives were also sacked.
"BNYM and its executives, motivated by outsized profits and bonuses, breached this trust and repeatedly misled clients to believe that the pricing they were getting on foreign exchange was far better than it actually was," Manhattan US Attorney Preet Bharara said in a statement.
"The bank repeatedly deceived its customers and is paying a heavy penalty for it."
BNY Mellon said it has "resolved substantially all the foreign exchange-related actions currently pending against the company" following the settlement, which was reached after several years of litigation.
"We are pleased to put these legacy FX matters behind us, which is in the best interest of our company and our constituents," the largest US custody bank said in a statement.
The investigation began after a whistleblower filed a complaint to New York Attorney General Eric Schneiderman, who later joined forces with the US attorney in Manhattan.
The lawsuits included filings by the US Department of Labor, the US Securities and Exchange Commission and class action participants.