Pensions shake-up 2015: 'Cash dash' fear amid pensions overhaul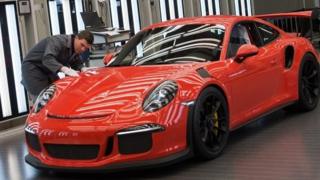 Pension policyholders have been warned not to be tempted to "dash for the cash" when the new rules come into effect next month.
People should take their time rather than acting immediately when the new rules come in on 6 April, a consumer group and insurers have said.
The new rules will make it easier for those approaching retirement to take cash from their pension pot.
But this could lead to a large tax bill if it is all released in one go.
Consumer group Which? said that a retiree wishing to access cash to buy a Lamborghini - referring to a remark by Pensions Minister Steve Webb - would have to pay an income tax bill that was enough to buy a Porsche.
"The government's reforms will offer people welcome flexibility over what to do with their savings," said Richard Lloyd, executive director of Which?
"But people approaching retirement are not going to turn into financial experts overnight and so, with more options on the table, it is vital people take their time to make the new freedoms work for them."
---
Pension changes 2015
People aged 55 and over can withdraw any amount from a Defined Contribution (DC) scheme, subject to income tax
Tax changes make it easier to pass pension savings on to descendants
Many people with Defined Benefits (DB) schemes will be allowed to transfer to DC plans
All retirees will have access to free guidance from the government's Pension Wise service
Existing annuity holders unaffected for the time being, but there are plans for them to be able to sell their annuity
---
The Pensions Advisory Service (TPAS), which will run the Pension Wise guidance service for those approaching retirement, also warned that the tax implications are among the biggest misconceptions among those asking for help.
Any lump sum of cash withdrawn from a pension will be treated as income. Large amounts could push individuals into a higher income tax bracket, taking a big chunk out of their lump sum.
TPAS also said that many people were unaware if their particular pension policy had the option of withdrawing cash. In some cases - especially with old policies - it could prove to be complicated.
The Association of British Insurers (ABI) said that people should not treat 6 April as a deadline to act.
"With greater pension freedoms and flexibility comes more responsibility to make the right choice. Don't be tempted to dash for the cash, but take time to consider carefully your options - especially as rising life expectancy means we can expect a longer retirement," said Huw Evans, director general of the ABI.