AIG investors to receive $970.5m over pre-crisis shares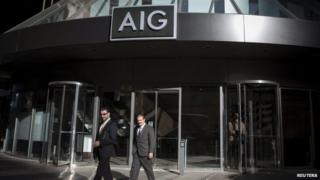 Investors who bought shares in American largest insurance firm, AIG, in the lead up to the financial crisis will receive a total of $970.5m (£649m) after a landmark settlement was approved by a US court.
The payout was initially agreed by AIG in August last year.
AIG, which issued credit guarantees for sub-prime mortgages, was bailed out by the US government in 2008.
Shareholders claim they were misled about AIG's exposure to such mortgages.
Sub-prime loans are those given to people with patchy credit histories or cannot prove their incomes.
The case is believed to be one of the largest settlements for shareholders relating to the financial crisis.
It covers shareholders who invested in AIG between 2006 and 2008.