London's FTSE 100 falls below 7,000
Last Updated at 16 Mar 2018, 16:36 GMT
*Chart shows local time
value
change
%
7164.14

+

+24.38

+

+0.34

Top winner and loser

1658.50 p

+

+

3713.00 p

-

-
value
change
%
19804.90

-

-23.51

-

-0.12

4002.91

+

+10.46

+

+0.26

3957.08

+

+9.92

+

+0.25

4456.32

-

-12.62

-

-0.28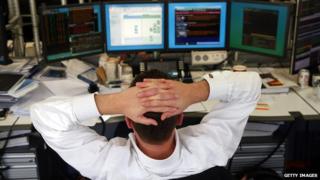 (Close): London's main share index closed below 7,000 on Wednesday, dragged down by ARM Holdings and Barclays Bank.
The ongoing eurozone crisis also depressed the market as Greece faces another deadline next week to present its reform plans, which should unlock rescue funds.
The index has gained nearly 7% this year and hit a record intra-day high of 7,065.08 on Tuesday.
The biggest faller was the microchip developer ARM Holdings, which lost 6.1% following a downgrade for its US rival AMD.
ARM licenses chip designs for the likes of Apple, and its shares had gained more than 50% since October.
Shares in Barclays fell 2.5%, after it was downgraded by the broker Investec.
Travel operator UTUI rose 2.6%, after the company said it was confident of meeting its full-year profit target.
Balfour Beatty rose 5.5% in response to signs that the infrastructure and construction firm was tackling its problems.
Shares in Bellway gained 2.7% after the house builder posted a 53% increase in profit for the six months to January to £158.9m. It is constructing more homes to meet the robust demand in the property market.
On the currency markets, the pound was up 0.3% against the dollar at $1.4890. Against the euro it traded 0.1% lower at €1.3580.