Banks must review impact of branch closures under new deal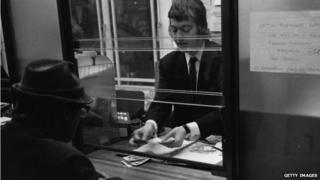 Banks must investigate alternative arrangements for customers before closing the last bank in town, under a new agreement.
Free-to-use cash machines, banks on wheels and the use of local Post Office branches could all be solutions.
The move expands a former voluntary agreement to assist vulnerable customers when towns and villages become bank-free.
But there will be no punishment if banks fail to provide alternatives.
Banks, the government and consumer groups have signed up to the new protocol, which will be reviewed independently in a year.
Local services
Business Secretary Vince Cable said that banks had a duty to ensure that vulnerable customers, small businesses and those in rural communities should have access to counter services to conduct their financial affairs.
However, many residents of towns and villages have found that they have to travel to the nearest major conurbation in order to get to a bank branch.
The Campaign for Community Banking Services (CCBS) recorded 479 branch closures in 2014, more than double the total in 2013, including 124 that were the last bank in the community. Some 142 more branches were due to close before April, more than a third of which were the last banks in the town or village.
It estimates that more than 1,200 communities in total have lost all their banks.
Banks should now consider the proximity of alternative branches as part of a 12-week consultation before a closure. Proximity can be very different, depending on the mobility of customers, ranging from young car drivers to older people reliant on public transport, so the age profile of the branch's customers will be part of the review.
Individual banking institutions should come to arrangements with the Post Office to allow counter services for current account customers, the government has said.
However, the CCBS described this option as a "poor substitute for a bank branch".
John Allan, chairman of the Federation of Small Businesses, said the switch to online banking could be difficult in some of these areas.
"Many areas facing closures still do not have the access to either reliable broadband or mobile connections necessary to properly support online banking," he said.
"We therefore ask all parties to work closely with telecoms and broadband providers to fill these gaps where they exist."
The British Bankers' Association, which represents the major banks, said: "It s important to remember there are nearly 10,000 branches open for business and 11,500 Post Offices where many of us can now withdraw cash, pay in cheques and use other counter services.
"There are significant events in life where customers need to go into a branch, which is why banks will continue to invest in this integral part of their services for decades to come."
Switching accounts
A system that allows customers to compare the suitability of current accounts from different banks is also being unveiled.
Comparison website Gocompare.com will run a government-backed system that allows customers of five banks and one building society to download their last 12 months of statements to judge whether they could get a better deal elsewhere.
"The initiative will allow people to compare accounts based on their needs and could help them save money if they switch," said Richard Lloyd, executive director at consumer group Which?.
"However, it will only be a success if the banks play their part in making people aware of the service and the benefits of switching, and if it is rolled out across all current account providers."
Initially, it will only be available to customers of Barclays, HSBC, Lloyds, RBS, Santander and Nationwide Building Society.
Only 6% of current account customers switched provider in 2014, despite the system becoming quicker and easier.