FTSE 100 falls as oil prices jump on news of airstrikes
Last Updated at 16 Mar 2018, 16:36 GMT
*Chart shows local time
value
change
%
7164.14

+

+24.38

+

+0.34

Top winner and loser

1658.50 p

+

+

3713.00 p

-

-
value
change
%
19804.90

-

-23.51

-

-0.12

4002.91

+

+10.46

+

+0.26

3957.08

+

+9.92

+

+0.25

4456.32

-

-12.62

-

-0.28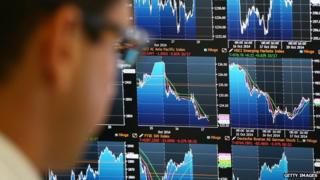 (Close): A jump in oil prices following news of airstrikes by Saudi Arabia on rebel targets in Yemen sent the UK stock market down by 1.4%.
The FTSE 100 was down 95.64 points at 6,895.33 at the close of the market.
Brent crude futures rose more than $2 to $58.80 a barrel. West Texas Intermediate crude rose $1.57 to $50.78 a barrel.
Airline shares were hit by the prospect of higher fuel bills, with Easyjet down 2.8% and IAG shares 3.4% lower.
Easyjet's fall came despite the carrier upgrading its half-year profit forecast, partly as a result of the weakening euro.
However, the biggest faller in the FTSE 100 was the London Stock Exchange. Shares in the exchange fell 5.6% after Borse Dubai sold its complete 17.4% stake in the LSE.
Shares in chip designer ARM Holdings fell a further 4.2% after a broker downgrade. On Wednesday, ARM shares had fallen more than 6% following a sell-off in the US tech sector.
Outside the FTSE 100, shares in Supergroup - the company behind the Superdry brand - jumped 6.2% after it said it would start paying dividends in the 2015-16 financial year.
Supergroup also announced it would launch a fashion range with actor Idris Elba.
On the currency markets, the pound fell 0.22% against the dollar to $1.4853. Against the euro, sterling climbed 0.29% to €1.3608.