General Electric shares lead US markets higher
Last Updated at 13 Apr 2018, 15:06 GMT
*Chart shows local time
value
change
%
24402.86

-

-80.19

-

-0.33

Top winner and loser

13.55

+

+

110.15

-

-
value
change
%
7099.00

-

-41.25

-

-0.58

2658.31

-

-5.68

-

-0.21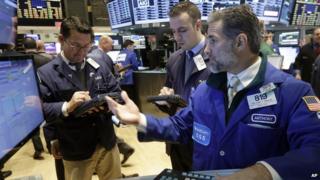 (Close): US markets closed higher, led by shares in General Electric, which rose 10.8% - their best day since 2009 - after the firm announced plans to offload its finance division.
Those plans include the sale of $29.5bn worth of real estate, as well as a share buyback.
All US indexes finished up - the Dow Jones added 98.92 points to 18,057.65.
The S&P 500 gained 10.88 points to 2,102.06, and the tech-based Nasdaq index rose 21.41 points to 4,995.98.