Dow and S&P 500 indexes finish higher
Last Updated at 21 Feb 2018, 20:59 GMT
*Chart shows local time
value
change
%
24797.78

-

-166.97

-

-0.67

Top winner and loser

129.26

+

+

91.52

-

-
value
change
%
7218.23

-

-16.08

-

-0.22

2701.33

-

-14.93

-

-0.55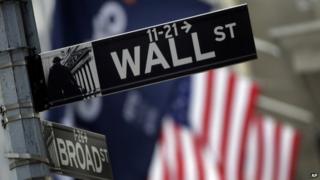 (Close): The Dow Jones and S&P 500 indexes ended higher, helped by energy stocks and corporate earnings that beat analysts' expectations.
The Dow closed 59.66 points up, or 0.33%, at 18,036.7, and the S&P 500 rose 3.41 points, or 0.16%, to 2,095.8.
But the tech-rich Nasdaq index fell 10.96 points, or 0.22%, to 4,977.29.
JP Morgan rose 1.56% after reporting a rise in profits, while Chevron and Exxon rose 2.2% and 1.5% respectively on the back of a rise in oil prices.
US benchmark crude rose $1.38 to $53.29 a barrel in New York.
JP Morgan reported a 12% rise in profit to $5.91bn for the three months to the end of March, as revenue from bond trading improved.
Johnson & Johnson shares were flat despite its first-quarter results beating analysts' expectations.
Net profit fell to $4.32bn from $4.73bn, but this was not as bad as forecast. However, the company also cut its full-year profit forecast to $6.04-$6.19 per share from $6.12-$6.27, with the strong dollar hitting returns from its businesses outside the US.