Wall Street dips on jobless woes
Last Updated at 17 Nov 2017, 20:59 GMT
*Chart shows local time
value
change
%
23358.24

-

-100.12

-

-0.43

Top winner and loser

59.19

+

+

44.63

-

-
value
change
%
6782.79

-

-10.50

-

-0.15

2578.85

-

-6.79

-

-0.26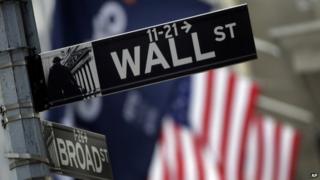 (Close): US shares closed lower on Thursday, dragged down by disappointing economic data.
Investors were disheartened by news from the Labor Department that claims for US unemployment insurance benefits rose to 294,000 last week, the most in six weeks and well above estimates.
The Dow shed 6.84 points to 18,105.77 points, while the S&P 500 fell 1.64 points to 2,104.99.
The tech-rich Nasdaq lost 3.23 points to 5,009.65.
Risers included Citigroup, which added 1.5% after posting strong quarterly results.
The bank posted net income of $4.77bn, up by a fifth compared with a year ago.
Chipmaker Sandisk's results were less well received after it forecast that its revenues would fall more steeply than expected this year.
The outlook, released late on Wednesday, sent the firm's shares tumbling 4%.
But by far the day's biggest winner was Netflix. Shares in the internet streaming service rose over 18% after it reported better-than-expected earnings after markets closed on Wednesday.