Wall Street slides on Greece woes
Last Updated at 13 Apr 2018, 15:06 GMT
*Chart shows local time
value
change
%
24402.86

-

-80.19

-

-0.33

Top winner and loser

13.55

+

+

110.15

-

-
value
change
%
7099.00

-

-41.25

-

-0.58

2658.31

-

-5.68

-

-0.21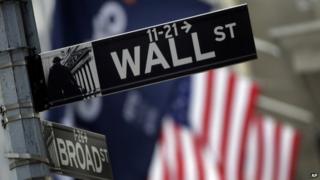 (Open): US shares fell sharply on Friday, dragged down by continuing fears of a Greek default and of China clamping down on speculative trading.
The Dow Jones shed 279.47 points, or 1.5%, to 17,826.30, while the S&P 500 fell 1.1% to 2,081.18. The tech-rich Nasdaq lost 1.5%, falling to 4,931.81.
No stocks grained ground on the Dow. The biggest loser was American Express.
The financial giant fell 5.1% after reporting quarterly revenues that were lower than expected.
Insurance firm Travelers Companies also took a hit, dropping 3% on a broker downgrade. Conglomerate 3M, Unitedhealth Group and United Technologies all fell more than 2%.
Concerns about Greece's finances were addressed by President Barack Obama at a joint press conference with Italian Prime Minister Matteo Renzi at the White House.
"Greece needs to initiate reforms," he said.
"They have to collect taxes. They have to reduce their bureaucracy and [introduce] more flexible labour practices."