Stocks on Wall Street end mixed on earnings concern
Last Updated at 13 Apr 2018, 15:06 GMT
*Chart shows local time
value
change
%
24402.86

-

-80.19

-

-0.33

Top winner and loser

13.55

+

+

110.15

-

-
value
change
%
7099.00

-

-41.25

-

-0.58

2658.31

-

-5.68

-

-0.21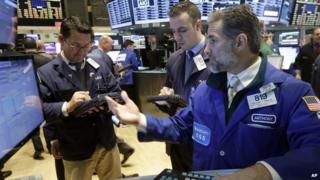 (Close): US shares ended Tuesday mixed as investors continued to digest the latest batch of company results.
The Dow Jones shed 85.34 points to 17,949.59 and the S&P 500 index lost 3.11 points to finish at 2,097.29.
The Nasdaq edged higher, adding 19.50 points to close at 5,014.10.
DuPont was one of the day's biggest fallers, with shares in the firm declining nearly 3% on weaker-than-expected first quarter earnings.
And shares in motorbike maker Harley-Davidson sank 9.8% after it trimmed its full-year sales forecast.
The company reported first-quarter net income of $269.9m, up slightly from a year earlier, but said it now expected shipments to grow by 2-4% this year against a previous forecast of 4-6%.
A bright spot was United Technologies, whose shares edged higher, ending up nearly 0.4% after it posted net income of $1.43bn, up from $1.21bn a year earlier.
News of another takeover bid in the pharmaceuticals sector caused a flurry of activity.
Shares in US drug maker Mylan jumped 8.9% to $74.24 after Israeli pharmaceuticals giant Teva launched a bid for it. The offer is worth $82.00 a share through a mix of stock and cash.
Earlier this month, Mylan launched a takeover bid for Perrigo, although the Teva offer is conditional on this being scrapped. Shares in Teva rose 1.4% while shares in Perrigo fell 2.7%.