Boeing shares lead US shares lower
Last Updated at 20 Mar 2018, 19:58 GMT
*Chart shows local time
value
change
%
24727.27

+

+116.36

+

+0.47

Top winner and loser

337.63

+

+

13.64

-

-
value
change
%
7364.30

+

+20.06

+

+0.27

2716.94

+

+4.02

+

+0.15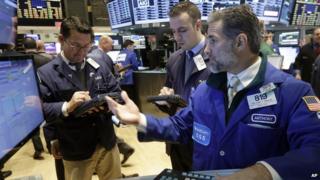 (Open): Shares in the aircraft manufacturer Boeing led the Dow Jones lower after the plane maker reported earnings.
The Dow Jones shed 48.5 points to 17,911.12 and the S&P 500 index lost 3.6 points to trade at 2,093.69.
The Nasdaq slipped 16.6 points to 4,997.54.
Boeing shares were down 1.6% after the company reported a rise in earnings but analysts were concerned about rising costs.
Shares in McDonalds jumped more than 4% after the firm announced a plan to turn sales around. The latest figures showed global sales falling 2.3% during the first three months of the year.