Standard Chartered profits fall 22% in 2015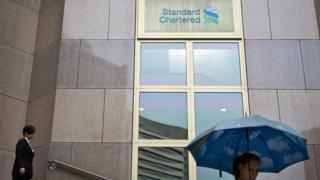 UK-based bank Standard Chartered has posted a 22% fall in pre-tax profit to $1.48bn (£1bn) for the first quarter.
As well as lower profits, the bank is grappling with rising costs.
It expects its bank levy to rise to $540m in 2015, up 48% on last year, and there has been speculation the bank may move its headquarters out of the UK.
But while HSBC has launched a formal review into whether it should keep its headquarters in the UK, Standard Chartered is more cautious.
"It's something that we continue to keep under review," said Andy Halford, Standard Chartered's finance director. "At this point in time there is no change in our position on domicile."
While he acknowledged that the increase in the levy is "pretty significant", Mr Halford added, "It's not a simple thing to do. Most businesses stay domiciled where they are and there's a reason for that."
The UK bank levy increased to 0.21% from 0.156% in the Budget.
Standard Chartered has seen its bank levy increase significantly over the past two years. It rose 56% to $366m in 2014.
Standard Chartered continues to face slowing growth in emerging markets, which is the bank's focus, and the commodities downturn.
Standard Chartered is cutting back its loss-making business in South Korea and the bank plans to make similar cuts in Hong Kong and China soon.
"Trading conditions remain challenging and the actions we are taking to de-risk, cut costs and build capital are having an impact," said Standard Chartered's outgoing chief executive Peter Sands. He will be replaced by ex-JPMorgan banker Bill Winters in June.
The bank is working on a cost reduction programme, which it hopes will save the bank $1.8bn over the next three years, said Mr Halford.