Casino giant Wynn's earnings take hit from Macau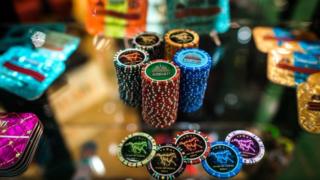 Shares of Wynn Resorts fell as much as 10% in after hours trading after the US casino giant said its earnings were hurt by its business in Macau.
The casino operator reported a loss of $44.6m (£29m) in the first quarter, compared with a profit of $227m for the same period a year ago.
Its overall revenue fell 28% to $1.01bn, while revenue from its Macau operations fell 38% in the period.
A crackdown on luxury spending by the Chinese government has impacted Macau.
The city is a special administrative region of China and the world's largest gaming centre, ahead of Las Vegas in the US.
It relies heavily on gambling tourism for its economic growth, but Beijing's drive to tackle corruption in China has affected the earnings of casino operators there, especially at the more expensive end.
"Table games turnover in the VIP segment was $17.1bn for the first quarter of 2015, a 52.4% decrease from $36bn in the first quarter of 2014," Wynn said of its business in Macau.
The sharp sell-off in Wynn's New York listed shares follows a public battle with the company's co-founder and third largest shareholder Elaine Wynn.
On Friday, shareholders voted against her returning to the Las Vegas-based company's board.