US stocks hit by weak growth figure
Last Updated at 20 Nov 2017, 20:58 GMT
*Chart shows local time
value
change
%
23430.33

+

+72.09

+

+0.31

Top winner and loser

46.20

+

+

45.46

-

-
value
change
%
6790.71

+

+7.92

+

+0.12

2582.14

+

+3.29

+

+0.13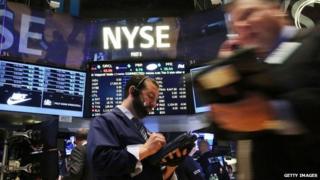 (Close): Stocks on Wall Street opened lower after figures showed the US economy grew more slowly than expected in the first quarter of the year.
The economy grew an at annual pace of 0.2% in the quarter, well below expectations of 1% growth.
The Dow Jones fell 74.61 points to 18,035.53, while the S&P 500 slipped 7.9 points to 2,106.85.
The technology-heavy Nasdaq index closed down by 31.78 points to 5,023.64.
Shares in the software company Salesforce.com jumped to a record high, closing up 11%, on a report by Bloomberg that it had fielded a takeover inquiry from an unidentified suitor.
Nasdaq stock GoPro jumped more than 12% to $52.94 after the company - which makes wearable cameras - reported better-than-expected first quarter revenues and profits.
The company also predicted second quarter results above analysts' forecasts, with revenues set to be $380m-$400m.
Shares in tyre maker Goodyear rose 4% after it also reported first quarter results ahead of forecasts.