Airbus profits rise while orders dip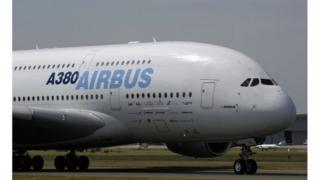 Europe's largest aerospace group, Airbus, has seen a big rise in first-quarter profits, thanks to the sale of its 17.5% stake in Dassault Aviation.
The sale helped Airbus to earn €792m (£575m) in the first three months of 2015, up from €439m in the same period last year.
But jet orders for the quarter fell slightly, from 103 last year to 101 this year.
At the same time, Airbus revenues dropped 4% to €12.1bn (£8.8bn).
Chief executive Tom Enders said: "We had a good start into 2015, with a solid operational performance and improved cash generation, further supported by asset sales."
The Toulouse-based company said plans to ramp up production of its new A350 plane were going ahead, while the A320neo was still on schedule and the A380 super-jumbo was on course to break even as intended.