Weak results send US shares lower
Last Updated at 13 Apr 2018, 15:06 GMT
*Chart shows local time
value
change
%
24402.86

-

-80.19

-

-0.33

Top winner and loser

13.55

+

+

110.15

-

-
value
change
%
7099.00

-

-41.25

-

-0.58

2658.31

-

-5.68

-

-0.21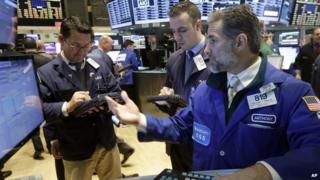 (Close): Wall Street closed sharply lower on Thursday as weak results from several companies hit investor sentiment.
Wednesday's disappointing GDP figures also contributed to the sharp falls in the US.
The Dow Jones slumped 1%, or 195 points to 17,840, while the S&P 500 lost 21 points, or 1%, to 2,085.49 points.
The technology-heavy Nasdaq index ended the day down 1.6%, or 82 points, at 4,941.42 points.
After the close of trading, the business social network site LinkedIn reported a 35% rise in quarterly revenue to $637.7m. However its shares fell sharply in after-hours trading as analysts were disappointed by its sales forecast.
Harman International, which makes audio systems for cars, slipped 7% after posting worse than expected revenue forecasts for 2015.
Online listings company Yelp sank more than 23% after reporting slowing growth for the second consecutive quarter.
On the upside, shares in Glu Mobile, best known for creating the popular Kim Kardashian: Hollywood game soared almost 25% after China's Tencent said it would buy a 14.6% stake in the company for $126m.
The deal with one of China's biggest online gaming companies would help Glu expand in that market, the company said.
The Kardashian game has generated revenue of almost $100m since its release in June 2014 and Glu now plans one based on Britney Spears.