Price rise hurts eurozone factories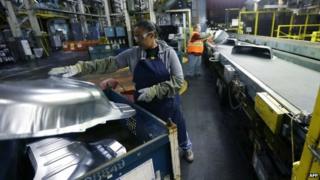 Eurozone factory activity has grown at a slower pace after manufacturers raised their prices for the first time in eight months.
For April, the Purchasing Managers' Index (PMI) from Markit was 52.0, down from 52.2 in March when it reached a 10-month high.
But the figure has been above 50 for 22 months, showing an expansionary trend.
Ireland and Spain performed best, with an increase in export orders boosting most other eurozone countries.
The Austrian PMI showed that the country's manufacturing continues to stagnate, following a 7-month pattern of slowing.
Greece saw the sharpest fall in new orders and production since 2013.
But manufacturing employment continued to rise during April, with job creation rising for eight months consecutively - its highest since August 2011.
Markit's chief economist Chris Williamson said: "The dip in the rate of expansion will serve to check recent optimism that the [European Central Bank]'s quantitative easing programme has bought a guaranteed ticket to recovery."