London shares higher but Sainsbury's falls on results
Last Updated at 23 Mar 2018, 16:36 GMT
*Chart shows local time
value
change
%
6921.94

-

-30.65

-

-0.44

Top winner and loser

4984.00 p

+

+

1468.50 p

-

-
value
change
%
19319.48

-

-74.41

-

-0.38

3874.01

-

-16.76

-

-0.43

3830.25

-

-16.63

-

-0.43

4174.38

-

-6.03

-

-0.14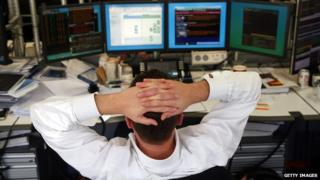 (Close): The FTSE 100 closed higher despite shares in Sainsbury's falling 3.16% to 266.30p after reporting its first full-year loss for 10 years.
The UK's third-largest supermarket chain reported a £72m loss in the year to March, after being hit by several one-off costs, including a write-down in the value of some of its stores.
The benchmark FTSE 100 index was up 6.16 points at 6,933.74, with Sage the biggest gainer - up 7.96% on results.
Imperial Tobacco rose 1.76% to 3,175p.
The tobacco firm said it was on track to meet its financial targets, despite underlying half-year sales dropping 5%.
Pubs chain Wetherspoon was up 3.87% after it reported results showing profit margins holding up better than expected.
In the FTSE 250, shares in Superdry owner Supergroup extended gains to stand 7.42% higher at noon after it reported strong fourth-quarter sales.
The fashion chain reported an 11.6% rise in like-for-like sales for the 15 weeks to 25 April, and said it was on track to hit full-year targets.
The pound was having a mixed day on the currency markets. Against the dollar it rose 0.36% to $1.5236, but against the euro it fell 0.94% to €1.3445.