US shares close lower after Janet Yellen warning
Last Updated at 16 Nov 2017, 20:59 GMT
*Chart shows local time
value
change
%
23458.36

+

+187.08

+

+0.80
value
change
%
6793.29

0.00

+1.30

2585.64

+

+21.02

+

+0.82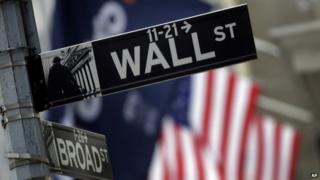 (Close): Stocks on Wall Street closed lower, after US Federal Reserve chair Janet Yellen warned that there were "potential dangers" in current US share valuations.
She said current valuations were "quite high", but added she didn't see a bubble forming.
The Dow Jones lost 86.22 points to close at 17,841.98.
The S&P 500 shed 9.31 points to 2,080.15 while the tech-heavy Nasdaq index dipped 19.68 points to 4,919.64.
Shares in Wendy's rose over 7% to $11.19 after the burger chain said underlying first-quarter sales rose 3.2%, beating expectations.
Stronger-than-forecast quarterly revenues from Electronic Arts pushed shares in the video game maker up nearly 3%. The company reported a 5.5% increase in revenue to $1.19bn for the three months to the end of March.
But another video game maker, Zynga, was the real market mover in trading right after markets had closed.
The Farmville creator said it would cut costs by laying off 18% of its workforce, which cheered investors, who sent shares up over 11%.