Group counters Nat Rothschild proposal for Indonesian coal company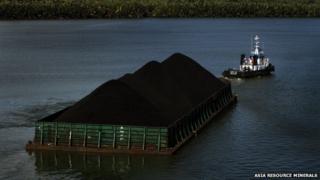 A group of Asian investors has submitted a bid to acquire Indonesian coal miner Asia Resource Minerals.
The group is managed by Hong Kong's Argyle Street Management and funded by Indonesia's Sinarmas Group, which is managed by Indonesia's Widjaja family.
The offer values Asia Resource Minerals at £98.8m and includes plans to inject $150m equity in the embattled company.
British financer Nat Rothschild submitted an alternative $100m refinancing plan in April.
Asia Resource Minerals, formerly known as Bumi, is grappling with tumbling coal prices and a continuing battle for control of the company.
It was founded in 2010 by Nat Rothschild and Indonesia's wealthy Bakrie family.
The co-founders fell out and the company was broken up in March 2014 and renamed Asian Resource Minerals.
The Argyle-Sinarmas bid for the company once again pits Mr Rothschild against a powerful Indonesian family.
The potential acquirers have stressed the importance of "an experienced and proven Indonesian partner", to lead the company. Foreign ownership of businesses is a contentious topic in Indonesia.
Asia Resource Minerals controls nearly 85% of Indonesian coal mine operator Berau. The country's energy minister said on Thursday that it would prefer Berau to be locally owned.
"Berau Coal is a corporate matter between shareholders. But as a policy matter, we want coal to be the pillar of our energy security. The more national mines that are controlled by national firms, the better," said Energy Minister Sudirman Said.