Shares and pound surge as Conservatives head for victory
Last Updated at 20 Feb 2018, 16:36 GMT
*Chart shows local time
value
change
%
7246.77

-

-0.89

-

-0.01

Top winner and loser

432.70 p

+

+

1490.40 p

-

-
value
change
%
19802.91

+

+149.34

+

+0.76

4041.03

+

+4.84

+

+0.12

3991.90

+

+3.57

+

+0.09

4456.05

+

+56.79

+

+1.29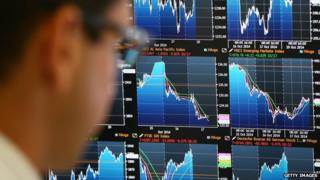 (Close): UK shares and the pound have surged as it became clear that the Conservatives had won an outright majority in the UK election.
The FTSE 100 index closed up 2.32%, rising 159.87 points to 7,046.82.
Bank shares saw some of the biggest gains, on hopes that the sector will not see any further rises in levies.
On the currency markets, the pound was up by more than two cents against the dollar at $1.5460, and was up 1.5% against the euro at €1.3747.
Among the main banks, shares in Lloyds Banking Group rose 5.75% while Barclays was 3.7% higher.
Energy firms also rose, as Labour had wanted to grant the energy regulator powers to cut prices.
British Gas owner Centrica rose 8.1% and SSE shares were up 5.3%.
"The stock market has reacted positively to a more decisive election result than was expected," said Laith Khalaf, senior analyst at Hargreaves Lansdown.
"Meanwhile, the pound has soared as the currency market welcomed the certainty of the result, and the economic continuity provided by a likely Conservative administration."