China's Tencent posts 7% rise in quarterly profits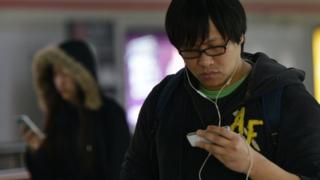 Tencent Holdings, Asia's biggest technology company, has posted a 7% year-on-year rise in quarterly net income, beating expectations.
The firm's results for the three months to March were boosted by revenue from video game sales and advertising.
Net profit for the Hong Kong-listed giant came to 6.88bn yuan ($1.1bn; £702m) for the period, against forecasts for about 6.5bn yuan.
The firm has some of China's best known messaging services, including WeChat.
Its revenue for the period rose 22% to 22.4 billion yuan from a year earlier.
The Shenzhen-based firm competes head-to-head for mobile users with e-commerce giant Alibaba.
While forecasts were for the firm's net profit to remain little changed from last year, analyst said returns from mobile advertising were expected to account for a much larger slice of earnings for the quarter.
The firm said that revenue from its online advertising business increased by 131% year-on-year "driven by video advertising and performance-based social advertising on mobile".
Famous penguin
The Chinese company started out with an instant messaging service called QQ, before hitting the big time through online games.
However, Tencent's free messaging and calling app, WeChat, is the jewel in the firm's crown, and a core part of the company's future strategy is to increase the number of advertisements it sells on the app.
Founded 17 years ago, Tencent also owns China's largest music streaming service by subscriber numbers and analysts have said its online gaming business can be compared to that of Nintendo's and Sony's gaming units.
Last month, the firm, which is widely recognised in China for its penguin logo, purchased streaming rights to National Geographic Channel and Fox Sports, among others.
Its streamed NBA basketball games are very popular across China.
Tencent's chief strategy officer, James Mitchell, told Reuters in a recent interview that the firm had "paid aggressively to buy some of the most popular content, the most established brands".
In March this year, the firm posted a 54% year-on-year rise in profits for the full year to December 2014.