HK shares up 2% on Chinese investment link speculation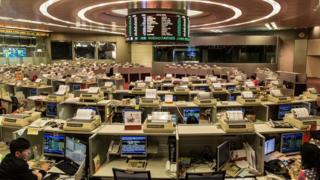 Shares in Hong Kong ended the trading day up nearly 2% on speculation that an investment link between Shenzhen and Hong Kong could be established later this year.
China's Premier Li Keqiang had said the new agreement would happen at "an appropriate time".
However, no formal announcement has been made so far.
At present, only a select number of Beijing-approved fund managers are allowed to invest in Shenzhen.
Hong Kong's benchmark Hang Seng index closed up 1.96% at 27,822.28 points, while on the mainland, the Shanghai Composite index closed down 1.59% at 4,308.69.
Analysts said mainland investors were probably selling off holdings to raise enough cash to invest in a fresh round of flotations - or initial public offerings (IPOs) - in the coming days.
About 20 IPOs are expected to make their debut next week.
In Japan, the leading Nikkei index closed up 0.8% at 19,732.92 points.
Shares of electronics maker Sharp were down 7% after it reported on Thursday it had agreed a 200bn yen ($1.7bn; £1bn) bailout from banks after announcing further losses and job cuts.
Camera maker Nikon's shares also plunged on a weak earnings forecast, falling 11%.
It forecast a more-than-30% fall in its operating profit, to 30bn yen for the year ending in March 2016.
Meanwhile, in Australia, the S&P/ASX 200 ended up 0.7% at 5,735.5.
The benchmark index was up 1.8% over the week - its best weekly performance in about two months.
South Korean shares were lower after the Bank of Korea left interest rates unchanged at 1.75% for the second consecutive month.
The benchmark Kospi index closed down 0.7% to 2,106.5. It rose 1% over the week.