Falling prices of key commodities pushes down UK shares
Last Updated at 23 Mar 2018, 16:36 GMT
*Chart shows local time
value
change
%
6921.94

-

-30.65

-

-0.44

Top winner and loser

4984.00 p

+

+

1468.50 p

-

-
value
change
%
19319.48

-

-74.41

-

-0.38

3874.01

-

-16.76

-

-0.43

3830.25

-

-16.63

-

-0.43

4174.38

-

-6.03

-

-0.14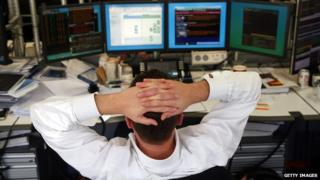 (Close:) The UK's benchmark FTSE 100 ended the week down as prices of key commodities fell, pushing down energy company shares.
The index closed down by 0.18% to 6,960.49 points.
Mining company Glencore was the biggest loser, closing down 1.8%, amid concerns about US economic growth.
US manufacturing output fell for the fifth consecutive month. Overall, the British oil and gas index also fell 1.1%.
Also pushed down were miners Anglo American, down 1.8%, and Randgold Resources down 0.4%.
Drinks and spirits firm SAB Miller climbed up 0.7%, after announcing it would acquire British craft beer firm Meantime Brewing Company.
Analyst Mike van Dulken from Accendo Markets said: "The variety of styles added to SAB's extensive local and heritage beer menu should serve it well, while its experience will help with Meantime's strategic goal of making beer attractive to a wider clientele."
The biggest winner was cruise company Carnival, which closed up 2.27% after announcing its new chief executive, Christine Duffy.
On the currency markets, the pound fell against the dollar - down 0.09% to $1.5761.
Against the euro, sterling fell 0.14% - one pound now buys €1.3805.